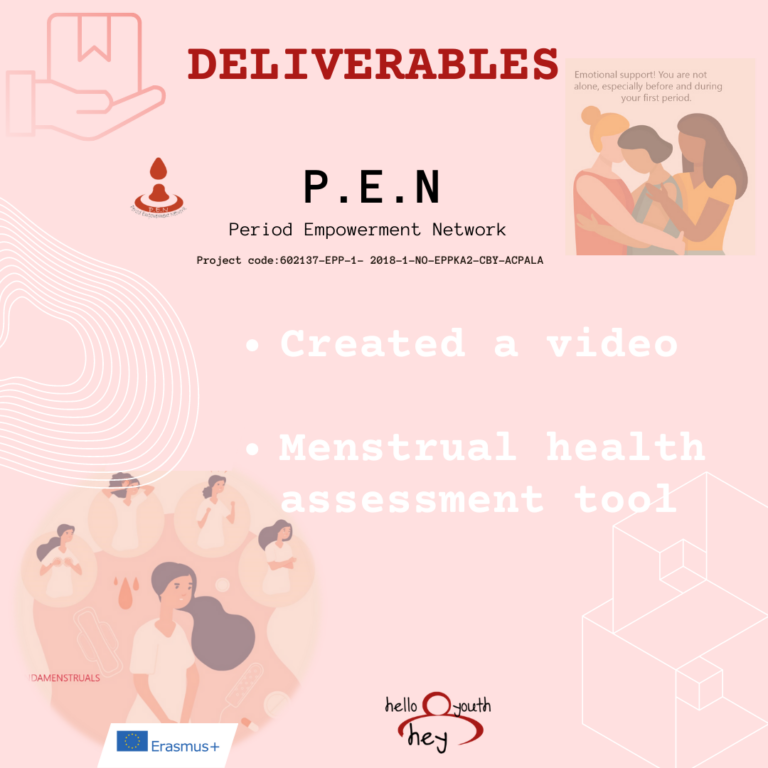 Period Empowerment Network (PEN) project.
PEN sought to improve knowledge, skills and attitudes about menstrual health and hygiene, and increase awareness about menstruation education. PEN is a menstruation education project to empower the youth and build their capacity to continuously learn and raise awareness about menstrual health and hygiene and advocate for menstrual education.
This project brings together partners from Norway, Portugal, Poland, Greece, Belgium, Spain, Philippines, Sweden, United States,
Uganda, India and Kenya.
Deliverables of P.E.N. Project  
Partners are familiar with the youth work of each partner in the project and the situation of menstrual health education and awareness in partner country's context.
Partners are familiar with the project overall implementation and have developed their capacities to apply and execute the project inline of the project's execution plan.
Partners are familiar with the use of the budget and how to document financial costs. Further, they understand the use of budget for capacity building activities and their financial contribution.
Partners are familiar with developing, executing, controlling, and evaluating project activities to meet set objectives and the expected results through sustainable result dissemination and exploitation activities.
Highlights 
At the end we came up with a video, please find the link https://youtu.be/25FrjQT-Epk. Moreover, we have introduced a Menstrual health assessment tool, find the link below. https://www.wsbinoz.edu.pl/wgrane-pliki/period_empowerment_handbook.pdf