–TERRAM PACIS – Norway 🇳🇴
–EIA – Portugal 🇵🇹
–WYZSZA SIZKOLA BIZNESU I NAUK O ZDROWIU- Poland 🇵🇱
–EYROPAIKO INSTITOYTO TOPIKHS ANAPTYKSHS – Greece 🇬🇷
–Erasmus Mundus Students and Alumni Association – Belgium 🇧🇪
–Asociacion de Innovacion Emprendimiento y Tecnologias de la 1 – Spain 🇪🇸
–Samahan ng mga Pillipina para sa Reporma at Kaunlaran, Inc – Philippines 🇵🇭
–Hello Youth – Sweden 🇸🇪
–Camion of Care – United States 🇺🇸
–VOLUNTEER ACTION FOR CHANGE KENYA – Kenya 🇰🇪
–Uganda Youth Skills Training Organization – Uganda 🇺🇬
–DISHA INTERNATIONAL FOUNDATION TRUST – India 🇮🇳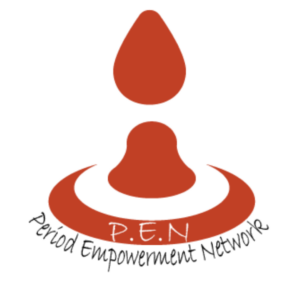 The idea that menstruation is dirty, shameful and unmentionable keeps girls and women away from school and out of work.
A woman without access to sanitary products may have to stay at home during her periods, or risks losing her job for getting off to change her pad, provided there are facilities for her to manage her menstruation at all. Even women working in office environments and girls in schools with convenient facilities, go to great lengths to hide periods.
PERIOD Empowerment Network, herein referred to as "PEN" seeks to improve youth knowledge, skills, and attitudes about menstrual health and hygiene, and increase awareness about the body, relationships, sexual practices, sexuality, etc.
PEN is a unique and powerful menstruation education project in empowering young people and building their capacities to continuously learn and raise awareness about menstrual health and hygiene and advocate for menstruation education.